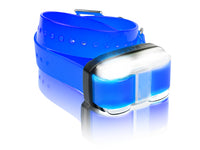 DOGTRA EDGE ADDITIONAL DOG TRAINING COLLAR

Features:
Suits medium to large working dogs and hunting dogs




Waterproof (IPX 7) Collar




2 hours fast charge




Colour coded collar strap




Location light with 4 interchangeable colors




Nick, Constant, and a non-stimulating vibration stimulation




2 Year Warranty



Download Dogtra Edge Manual From here.
Recommend Dog Breeds examples (Over 6 months)

*Kelpie *Cattle Dog *Border Collie *Staffy *Bull Terrier *Whippet *German Shepherd *Labrador*Golden Retriever *German Shorthaired Pointer *Australian Shepherd *Husky *Rottweiler *Doberman  *Ridgeback *Maremma *Wolfhound *Bull Arab *Weimaraner *Boxer *Mastiffs

Dogtra Edge dog training systemis the latest and best Dogtra remote traineron the market. It has lots of new features you can ever expect to get from a dog training system. It is the most professional Dogtralong range dog training systemfor serious competition field trials and hunting. The collar has medium to high level power of output which suits most medium to large size working dogs and hunting dogs.
The DogtraEdge replaces the old Dogtra 1800NC series dog training collars, and it has all the features of the 1800NC series have but with much more improved technologies:
User expandable collar which means you can add extra collars to the system if you acquire more dogs (up to 4 dogs in total). LED location light is built in to every collar which can be set to 4 different collars to match with the colour coded button on transmitter. User changeable selector dial which enables user to select the right intensity mode by themselves. The Rheostat intensity dial (no jump) has 127 levels of stimulation and Selector "Step" dial has 8 levels of stimulation.
The DogtraEdge remote dog traineris also powered by the new Lithium polymer batteries which can be fully charged in 2 hours. The complete system is waterproof with up to 1600 metres range and also features Dogtra "Nick" "Constant" "Page" stimulations as well as "Light" mode.
The DogtraEdge dog training systemtransmitter has two stimulation dials. One is stimulation mode selector dial and the other one is exchangeable stimulation output levels selector dial. The Dogtra Edge has 4 operation modes by turning the "Stimulation mode selector dial":
"Nick" is used to correct unwanted behaviour by emitting a single, rapid stimulation pulse
"Constant" is used for training reinforcement and delivers a continuous stimulation which can last up to a maximum of 12 seconds. The stimulation will automatically turn off after 12 seconds.
 "Pager" gives a vibration stimulation which is a great way of communicating with your dog. This is also beneficial with dogs that are hard of hearing.
"L" is the built in location light of every edge collar. The color of the light is programmable to match with the color of the button on transmitter.
The DogtraEdge dog training collaralso features exchangeable stimulation levels dials. The Rheostat Dial has 127 levels of stimulation. It has smooth increment which can be easily adjusted between levels very quickly which is great for more sensitive dogs. The Set Level Dial has 8 levels of stimulation which changes levels in much larger increment. There is a "click" between each level. It is great for large and stubborn dogs.
Location light
The DogtraEdge dog training collarcan be programmed into four different light colors -- white, orange, green and blue. These colors can be matched with the buttons on the handheld transmitter. When the color of light has been set up with the transmitter, the back light of the LCD screen on transmitter will match with the color as well. It means when the green button is pressed on the transmitter, the back light of LCD screen will light up in green and the green collar will flash in the same time. This makes it much easier to see which dog is receiving the correction. It is extremely helpful in dark.
The Location Light has 2 operation modes
3-Second Flashing Mode
Simply turn the mode select dial to "L" position and quickly press and release the dog button. The light will flash every 3 seconds. Quickly press and release the dog button again to turn it off.
Continuous Light Mode
Press the dog button and hold it down. The light flashes as long as the button is hold. The light will turn itself off when the lights have more than 12 seconds. Then release the button and press it again when longer than 12 seconds is needed.