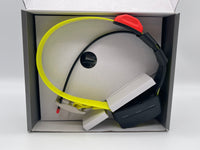 Garmin T5X Tracking Collar
Garmin Alpha T5X Tracking Collar
Our T5X or TT15X that  comes with FREE pack including:

Our collar straps roller Buckle

Our Long range aerial

Our Protection cover 

Rechargeable battery pack
This FREE list worth $90 made by Pig Dog Supplies.
 

Garmin T5x Collar Features:
Up to 7km range

58cm long range antenna included

Waterproof

Rechargeable with 4 hour fast charge

Remote operated beacon light

Rescue mode to save battery

And heat shrink on both GPS & radio antennas for better protection

1 year warrant
 



Features
* Pre Loaded with AU TOPO Active Map
* Tracks up to 20 dogs (with purchase T5 or TT15 collars)
* Track and message other paired Alpha devices
* Compatible with BirdsEye Satellite Imagery (True Satellite View of surrounding)
* 3.5 inch high resolution touch screen
* 6 Buttons design for easy operation * Fully waterproof
* Rechargeable system with user replaceable battery
* Up to 20 hours use in standard tracking and 15 hours with inReach enable
* 1 year warranty

Important ! Please perform software and firmware update for Garmin products before use.
Other Features:
The New Garmin T5x add – A – Dog GPS Dog Tracking Collar allows you to add an extra dog collar to the Garmin ALPHA Dog Tracking system. This collar allows you to track a dog up to 7 km's range. The Garmin ALPHA Dog Trackers expandable to track up to 20 dogs (T5x Collars). This collar is fully waterproof and rechargeable with 4 hours fast charge as well as user easy replaceable battery.

DMT Armoured Protection Kit

DogMaster Trainers designs the Pig Hunting protection kit for the Garmin T5x dog GPS tracking collar for Australian tough Pig Hunting conditions. The kit includes strong industrial heatshrink on radio antenna and GPS antenna.

"This unit is designed for dog tracking & pig hunting under normal Australian conditions. Due to the harsh conditions and heavy usage required for Pig Hunting, we strongly recommend a protective cover is used to ensure your warranty is not made void."

Extended Range Antenna

DogMaster Trainers recommend our customers getting the 58cm/22.5 inch antenna for the Garmin T5 collar. Especially with the Australian tough Pig Hunting conditions, pig hunters and dogs are working under heavy covered area, this antenna emits a much better signal so the T5x collar is still able to communicate with Garmin Alpha 100 handheld.
Rescue Mode
You can manually activate the Rescue Mode of the T5x collar, within the Rescue Mode, the collar's update rate will drop to every 2 minute to ping the ALPHA handheld to extend the battery life. The Rescue Mode stays on until you turn it off. This mode will be activated automatically when the battery of the collar drops to 25%, it gives the maximum amount of hours to find a lost dog.
Collar operating hours in relation to the Ping Update Rate
25 hours with 5 second update rate
35 hours with 10 second update rate
40 hours with 30 second update rate
52 hours with 120 second update rate
Beacon light
The Garmin T5x collar has a built-in remote operated beacon light. It helps pig hunters locate their dogs at night or in low light condition. It also helps to warn drivers if the dog wanders near the road. The beacon light is visible for up to 90 metres.
Dimension
Weight: approx 300g with pig hunting protection kit
Height: 4.45cm
Width: 8.90cm
Depth: 4.70cm