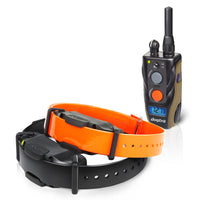 DOGTRA 1900S REMOTE DOG TRAINING COLLAR - 1200M
Features:

Up to 1200m range




Slim design receiver/collar ergonomically shaped to suit most dogs




Suits most medium to large dogs




'Nick' and 'Constant' stimulation along with a non-stimulating pager/vibration




Rheostat dial with up to 127 levels stimulation




LCD screen displays exact level of stimulation, and battery status




Rechargeable with 2-hour rapid charge Lithium Polymer battery




2 year warranty



Recommend Dog Breeds examples (Over 6 months)

*Kelpie *Cattle Dog *Border Collie *Staffy *Bull Terrier *Whippet *German Shepherd *Labrador *Golden Retriever *German Shorthaired Pointer *Australian Shepherd *Husky *Rottweiler *Doberman *Ridgeback *Maremma *Wolfhound *Bull Arab *Weimaraner *Boxer *Mastiffs
The New Dogtra 1900S remote dog training collar is the replacement remote trainer of the most popular entry level medium to large size working & hunting dog trainer - 1900NCP series.  It has enhance training range in up to 1200 metres which is 400 metres more compare with the 1900NCP trainer. The 1900S also has built in 2 hours fast charge lithium batteries on both receiver collar and transmitter handheld.
One of the big change of the 1900S is the design of the receiver collar. It has the same slim ergonomically shaped (curve) design as the Dogtra ARC remote trainer. This change makes the collar fits on the dog much better than most big dog remote training systems. The 1900S receiver collar looks the same as the ARC receiver collar but a little bigger in size. It is a high output version of the Dogtra ARC system.