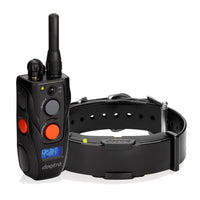 DOGTRA ARC DOG TRAINING COLLAR - 1200M
Features:

Up to 1200m range




Slim design receiver/collar ergonomically shaped to suit most dogs




Suits dog from 5.5kg in weight




'Nick' and 'Constant' stimulation along with a non-stimulating pager/vibration




Checkered grips on the handheld transmitter for a positive feel




Rheostat dial with up to 127 levels stimulation




Includes 2 dog collars 




LCD screen displays exact level of stimulation, and battery status




Waterproof system (IPX 7)




Rechargeable with 2-hour rapid charge Lithium Polymer battery




2 year warranty



Download Dogtra ARC Manual from Here.
Recommend Dog Breeds examples (Over 6 months)
*Bull Terrier *Cavalier King Charles *Maltese *Shih Tzu *Scottish Terrier *Jack Russel *Beagle *Kelpie *Cattle Dog *Border Collie *Staffy *Bull Terrier *Whippet *Cocker Spaniel *Poodle *Labrador *Golden Retriever
The Dogtra ARC dog training collar stands for Advanced Receiver Concept. The collar has a low profile receiver collar that is ergonomically shaped to suit most small to medium size pet dogs and working dogs. This system has maximum 1200 metres range which is enough for everyday dog training in the yard or out the field. The grips on the handheld transmitter allow you to always have a firm grip of the training at hand.
This Dogtra ARC dog training collar also features 127 levels of momentary, continuous and vibration stimulation, fully waterpoof (IPX7) design, rechargeable with 2 hours fast charge, LCD displays stimulation and battery levels, expandable to a 2 dog trainer (). The ARC transmitter has colour coded button corresponding to the colour of collar strap so you can easy control between 2 dogs with one remote.
Key Definition:
"Nick" is a single, rapid pulse of electrical stimulation.
"Constant" is a continuous stimulation which can last up to 12 seconds. The stimulation will be automatically turned off after 12 seconds.
"Pager" emits a vibration stimulation which is a great way of communicating with your dog using non – electrical stimulation.
Package Contents: 
1 x ARC Transmitter 
2 x ARC Colour Coded Receiver/Collar 
Battery charger and splitter cable 
Test light 
Owner's Manual 
Metal belt clip and screws