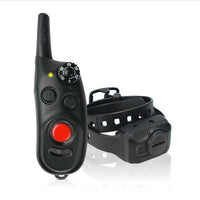 DOGTRA CLIQ CLICKER ADD A DOG EXTRA TRAINING COLLAR
Features:
Extra receiver collar for Dogtra CLiQ remote trainer




Detachable collar strap




Waterproof (IPX 7) Collar




Built in clicker for positive reinforcement training




Conductive Plastic contact probes




1 year warranty



Recommend Dog Breeds examples (Over 6 months)

*French Bulldog *Mini Dachshund *Corgi *Pug *Bull Terrier *Cavalier King Charles *Scottish Terrier *Jack Russel  *Beagle
Extra Dogtra CLiQ remote training collar to suit Dogtra CLiQ remote dog trainer. It is waterpoof and operated by 2 x 3v CR2032 lithium batteries. Light weight designed to suit most dogs. 
Please note: The Dogtra CLiQ system can only control up to 2 dogs.