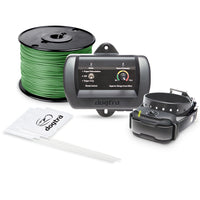 DOGTRA EF3500 INVISIBLE DOG FENCE KIT – LESS THAN 40 ACRES
Dogtra EF3500 Invisible Dog Fence kit Features

*Suitable for dogs from 7kg




4 steps to containing your pet




Collar is both waterproof (IPX 7) and rechargeable




8 manual adjustable levels of stimulation




Vibration only/vibration warning prior to static correction




Capacity to cover up to 40 acres with extra wire purchase




2 Year Warranty



Download Dogtra Invisible Dog Fence Manual From here.
Recommended Dog Breed* examples (Over 6 months)
*Kelpie *Cattle Dog *Border Collie *Staffy *Bull Terrier *Whippet *Poodle *Cocker Spaniel *German Shepherd *Labrador *Golden Retriever *German Shorthaired Pointer *Australian Shepherd *Husky  *Rottweiler *Ridgeback *Doberman *Maremma *Wolfhound *Bull Arab *Weimaraner *Boxer *Mastiffs

Kit Includes:
Transmitter
Power adapter
Charger for receiver collar
Waterproof (IPX 7) and Rechargeable Collar (receiver)
Probes for short and long coated dogs
Instruction & training manuals
150 metres wire and 25 training flags
Accessories: collar test light, 4 x wire joiners, contact probes, adjustment tool, ground wire, non-stimulation caps.

The new Dogtra EF3500 invisible dog fence system is one of the best rechargeable dog fencing systems for most breeds of dog from 7kg in weight. The collar is fully waterproof and rechargeable with built in 2 hours fast charge battery. The strong transmitter is able to emit a radio signal to run up to 40 acres wire/1600 metres wire (extra wire purchased separately). Extra Dogtra EF3500 receiver collars can be purchased here if you need to contain more than one dog.

How does it work?
The Dogtra EF3500 transmitter plugs into a standard power outlet and emits a radio signal that runs along the containment system wire. Please note: The radio transmitter is NOT water resistant and need to be under cover.

The lightweight Dogtra EF3500 receiver collar on the dog's neck picks up the radio signal and alerts him with an optional vibration warning (can be turned off) as he enters the activated field (adjustable from approx 40cm to 6 metres on each side of the wire). If he continues towards the fencing boundary and enters into the stimulation field (adjustable from approx 60cm to 4.5 metres on each side of the wire), he will receive a preset level of correction similar to a static pulse.
Learn more about invisible dog fence:
How Does Invisible Dog Fence Work
Dog Containment Systems Buying Guide

Stimulation
The Dogtra EF3500 has 2 stimulation modes which is controlled from the transmitter. It can be set as vibration only so the dog will only receive a vibration from the collar when it walks into the activated zone. It can also be set as vibration plus stimulation in which the collar will emit a vibration warning when the dog walks into the activated area and if the dog stays longer in the area, he will receive a preset level of stimulation (from level 1 to 8).
The stimulation output is adjusted from the collar which means you can set different output for each dog to accommodate different personality and temperament.
The stimulation levels range from level 1 to level 8, level 1 being the lowest. In order to select the proper intensity level for each dog, we recommend that you start with level 1 and increase the level slowly until you can see the reaction from the dog (starts looking around).