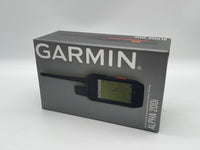 Garmin Alpha 200i tracking system handset
Garmin Alpha 200i Tracking System 
In this deal you will receive one Garmin 200i hand set with:
Screen protector
Silicon bump case 
Long range antenna
In built map with birds eye imagery
All chargers are included
Our game stick
You can add T5X or TT15X that  comes with FREE pack including:
Our collar straps roller Buckle
Our Long range aerial
Our Protection cover 
Rechargeable battery pack
The list comes as a FREE pack worth $90 made by Pig Dog Supplies.
Features
* Pre Loaded with AU TOPO Active Map
* Tracks up to 20 dogs (with purchase T5 or TT15 collars)
* Track and message other paired Alpha devices
* Compatible with BirdsEye Satellite Imagery (True Satellite View of surrounding)
* 3.5 inch high resolution touch screen
* 6 Buttons design for easy operation * Fully waterproof
* Rechargeable system with user replaceable battery
* Up to 20 hours use in standard tracking and 15 hours with inReach enable
* 1 year warranty

Important ! Please perform software and firmware update for Garmin products before use.
Other Features:
Measures dogs' speed and distance travelled
Dog Trails: Choose from three views: Complete History, Partial History, or no Trail History
Map Screen option: Show / Hide Dog's Status, Distance, Names, and Off screen Dogs
Zoom to MAP DOGS - automatically zoom in/out to include all dogs appear on the map screen -- no matter how far they are from you
Wireless sharing of Dog info to other ALPHA handheld units
16GB internal memory - install extra maps
Expandable external memory by micro SD card
Comes with Australian Topactive Map
BirdsEye direct to device without annual subscription required
Waterproof
Rechargeable with user replaceable battery
Trip Computer
Kit includes: 1 x Alpha 200i handheld, 1 x T5 collar, Charging Pack for handheld and Collar, Manual
The Garmin Alpha 200i GPS dog tracking handheld is the new addition to the touchscreen Alpha Range product. It is compatible with Garmin T5 / T5 mini collar for tracking as well as TT15 /TT15 mini collar for tracking and training. It has new larger 3.5 inch capacitive touchscreen which is a sunlight-readable touchscreen. The improved 6 button design is great for fast training cues and minor adjustments in the field. One of the main feature of the Alpha 200i is built in inReach Iridium satellite technology. It allows you communicated with your friends, love ones or event post on social media websites without using traditional mobile network. 
Always connected with inReach Iridium satellite technology
TWO-WAY MESSAGING
Exchange text messages with loved ones, post to social media, or communicate inReach to inReach in the field (satellite subscription required).
INTERACTIVE SOS
In case of emergency, trigger an interactive SOS message to GEOS, a professional 24/7 global monitoring and response centre (satellite subscription required).
LOCATION SHARING
Track your location, and share it with those at home or out in the field so they can see your progress or ping your device for your GPS location and more (satellite subscription required).
100% GLOBAL IRIDIUM® SATELLITE NETWORK
Instead of relying on mobile coverage, now your messages, SOS alerts and tracking are transferred via the global Iridium satellite network (satellite subscription required).
General
Physical dimensions: (6.8 x 16.2 x 3.4)
Weight: 280g with standard antenna and battery
Water rating: IPX7
Battery type: rechargeable lithium-ion (included)
Touchscreen: Yes
Display type: Transflective, colour TFT touchscreen
Display size: 4.7 W x 7.7 H cm; 3.5 inch diag (88.9 mm)
Battery life: up to 20 hours; up to 15 hours with inReach® technology enabled
Memory/history: 16.0 GB
High-sensitivity receiver: Yes
Interface: USB

Maps & Memory
Basemap: yes
Preloaded maps: yes (topographic active)
BirdsEye: Yes, direct to device (no annual subscription required)
Ability to add maps: yes
Accepts data cards: microSD™ card (not included)
Custom POIs (ability to add additional points of interest): yes
Waypoints/favorites/locations: 10000
Routes: 250
Track log: 20,000 points, 250 saved tracks
Sensors
Barometric altimeter: yes
Compass: Yes (tilt-compensated 3-axis)

Outdoor Recreation Features
Area calculation: yes
Automatic routing (turn by turn routing on roads): Yes (with optional mapping for detailed roads)
Custom maps compatible: yes
Hunt/fish calendar: yes
Sun and moon information: yes

Garmin Connect™
Garmin Connect™ compatible (online community where you analyze, categorize and share data): yes
Garmin inReach devices require satellite subscription activation to function. The service provided is an inReach two-way satellite communicator service, which uses the Iridium low orbit satellite network together with inReach customer equipment, which is sold separately. Customers can use the satellite service to send and receive text messages to a cell phone (SMS) number or email address, as well as SOS messages and location-based (GPS) tracking services.
 inReach consumer subscription plan details and compares consumer plan options:
Connection charge:  one-time subscription activation fee.
Minimum Term: The minimum term for Freedom plans is 30 days. The minimum term for an Annual/Contract plan is 1 year with 12 monthly payments.
Freedom plans: The minimum term is 30 days. It can be suspended a month at a time at no charge, and a user retains access to inReach data stored on the Explore portal.
Annual/Contract plan: The minimum term is 12 month. It can move up a plan for free (paid off difference).